Why Mirvac
Since our founding in 1972, we have been reimagining urban life in Australia - creating exceptional living experiences through the pursuit of quality and care in every little detail.
You can benefit from our visionary philosophy, customer first approach and our all-under-one-roof knowledge, passion, experience, service and delivery.

Reimagine urban life
To reimagine urban life is both our passion and our purpose through which we leave a legacy of sustainable, connected and vibrant urban environments. Our ability to design and deliver invigorating places where people want to live, work, play and shop unlocks long-term value and puts people front and centre of all that we do.

Award Winning Excellence Since 1972.
With over 700 project and industry awards, Mirvac is leading the market in design, construction, marketing and development.
Our recent awards include: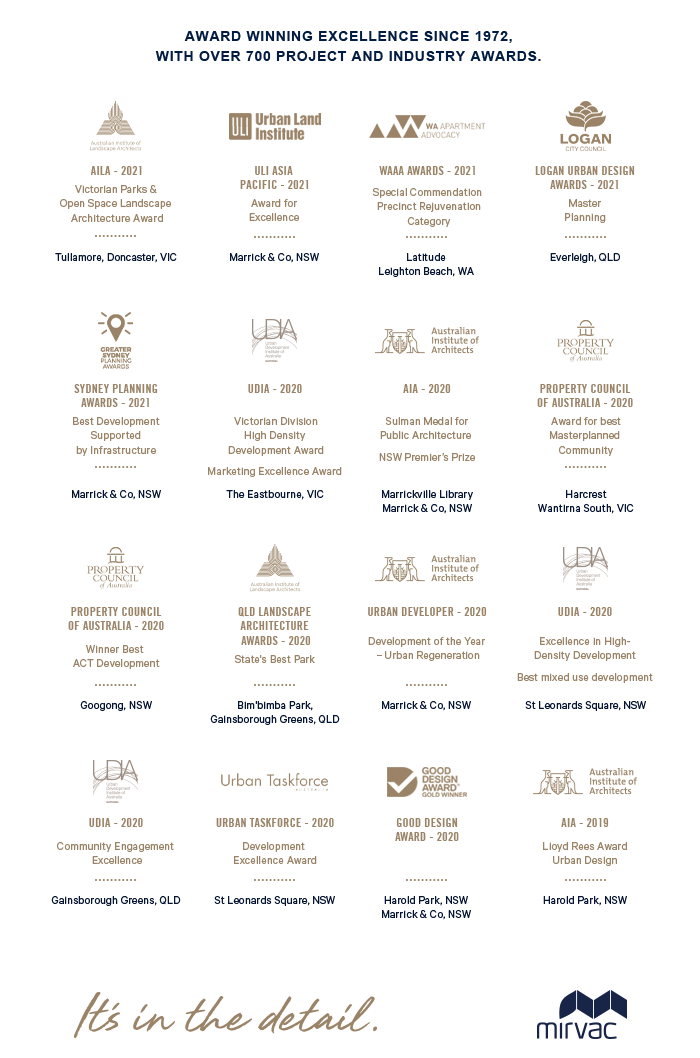 The Team Behind our Brand
Mirvac's reputation for quality hasn't happened by accident and it hasn't been built overnight. It's the result of 47 years in which many incredible people have contributed their knowledge, skill and loyalty in the pursuit of excellence. The rest comes down to the passion and purpose you will find amongst the Mirvac people who are building the Mirvac legacy, brick by brick, building by building, considering every little detail.